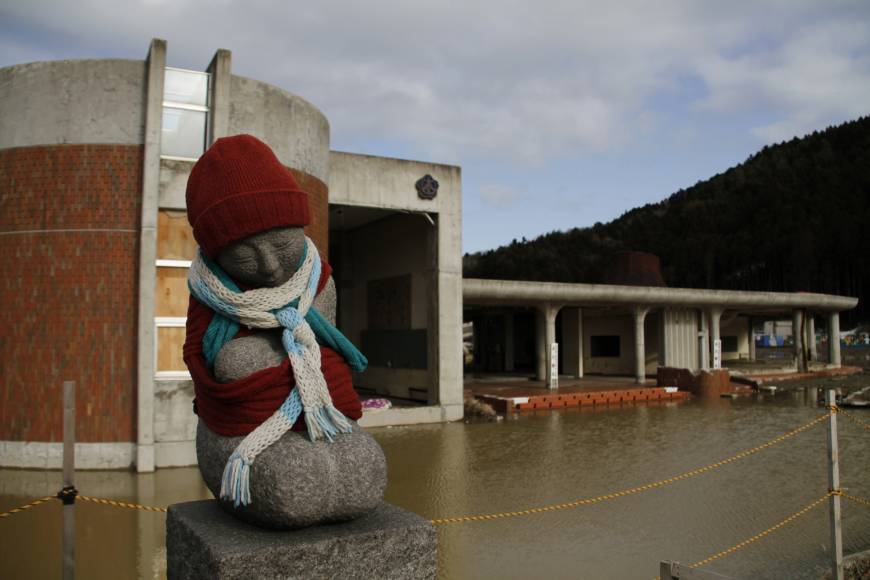 The education ministry plans to make university students training to become teachers take classes on how to respond to safety threats at schools.
The initiative to make the safety classes a mandatory course partly reflects the Okawa Elementary School tsunami deaths in Ishinomaki, Miyagi Prefecture. The school saw 74 pupils die on March 11, 2011, when it was engulfed by giant waves spawned by the magnitude-9.0 earthquake.
In October, a district court ordered municipal governments to pay about ¥1.426 billion in damages to the families of 23 of the children killed, finding the municipal school liable for failing to evacuate them appropriately. Both the plaintiffs and defendants are appealing the ruling.
The ministry hopes to improve the knowledge and skills of teacher hopefuls so they can protect children during incidents and natural disasters, officials said.
It aims to make school safety responses a mandatory subject in fiscal 2019, following amendments to the School Teacher's License Act and a relevant ministry ordinance, the officials said.
In a report compiled in 2014, a committee that looked into the tsunami deaths at Okawa Elementary highlighted the belated decision of its staff to evacuate the children. The staff as a whole lacked sufficient knowledge of tsunami preparations and responses as well as of crisis management, the report said, proposing that education on disaster preparation and response be made a compulsory subject for would-be teachers.
The Central Council for Education, which advises the education minister, in a 2015 proposal aimed at improving teachers' capabilities urged that school safety measures be studied as part of a required course. It would be desirable for all school teachers and other staff to have qualities for adequate and appropriate responses in a natural disaster, the proposal said.
Once amendments to the School Teacher's License Act are enacted, the ministry plans to start work to revise the ordinance to enforce the law, which lays down subjects and credits for teacher-training courses at universities. It wants to start enforcing the revision as soon as March.
Universities individually need to file for approval to teach specific content on school safety. The new teacher-training course curriculum is not expected to start before fiscal 2019.
Education on school safety is also expected to be included in the guidelines for the minimum content of education for teacher-training courses the ministry is drawing up.
Some universities are already offering classes on disaster preparation and crisis management.
Students at Hokkaido University of Education in Sapporo can take a half-year elective course in which they take classes to learn basic knowledge, including types of natural disasters, preparations and responses by the central and local governments, and how to read maps.
In field work, students create maps for disaster preparation and response that indicate evacuation shelters and highlight key points to watch for during evacuations.
Currently, the subject is not available due to organizational reforms at the university, but the school hopes to restart it soon, officials said.
"It's crucial to make students aware of the importance of protecting themselves and the people around them during natural disasters, which can strike at any time," Takako Sasaki, professor of home economics at the faculty of education, said. "It's also important for students to think about what they should do for the same end."